Como "cacería de brujas" calificó Trump la controversia generada por su cercanía con Gobierno de Rusia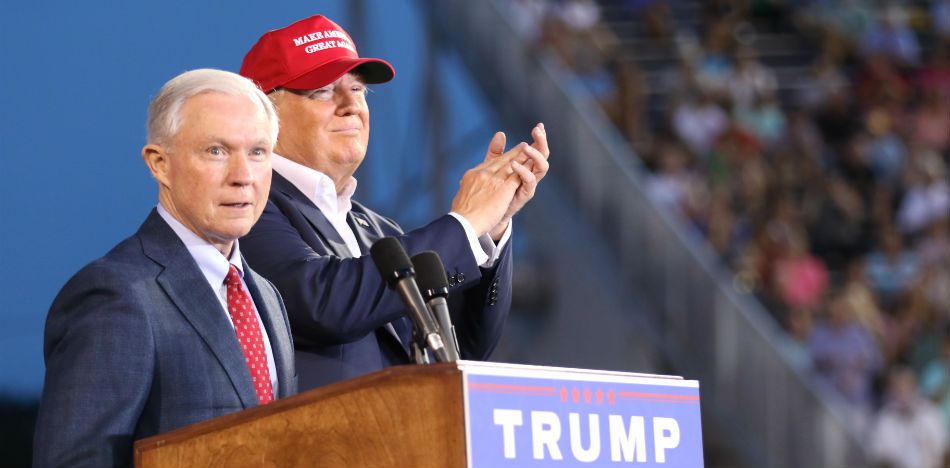 El presidente de Estados Unidos,
Donald Trump
, afirmó este jueves que hay una "cacería de brujas" por las presiones que está recibiendo el fiscal general, debido a supuestas comunicaciones que tuvo con un diplomático ruso durante la campaña presidencial en el año 2016, y que ocultó al Senado durante las sesiones previas a la confirmación de su cargo.
"
Jeff Sessions
es un hombre honesto", dijo Trump por medio de un comunicado en el que indicó que las presiones a miembros de su equipo por contactos reales o eventuales con funcionarios del Gobierno de Rusia no pasan de ser una "cacería de brujas". Días atrás el presidente estadounidense dijo que tenía "total" confianza en su secretario de justicia.
Jeff Sessions is an honest man. He did not say anything wrong. He could have stated his response more accurately, but it was clearly not intentional.
This whole narrative is a way of saving face for Democrats losing an election that everyone thought they were supposed to win.
The Democrats are overplaying their hand. They lost the election, and now they have lost their grip on reality.
...
See More
Sin embargo, Sessions informó que se apartaría de cualquier investigación que desarrolle la justicia estadounidense sobre la campaña presidencial con el fin de no perjudicar el buen curso de esta.
Según investigaciones de agencias de inteligencia estadounidenses,
Rusia
y el presidente Vladímir Putin fueron los artífices de la intervención y divulgación de correos electrónicos de la excandidata presidencial Hillary Clinton, así como del partido Demócrata, con el fin de favorecer la candidatura de Donald Trump.
Recientemente, el diario estadounidense The New York Times reveló que la administración del expresidente Barack Obama se encuentra detrás de las filtraciones de información respecto a los contactos entre el equipo de Donald Trump. Con esto se confirman las recientes denuncias de Donald Trump respecto a que Obama estaba detrás de la situación, lo que calificó como "grave".